Cloud Planning, Management & Execution
RiverMeadow's Project Management Service is a scalable cloud delivery service specializing in the planning, management and execution of cloud transition projects. Our Project Managers will oversee each phase of the project to ensure your cloud journey is successful.
Customer Challenges
On average, 45% of cloud projects tend to run over budget - and one in six projects are 200% over budget. 56% deliver less value than expected and 70% take longer than anticipated. Cloud can be a high-risk business so choosing a trusted partner to help you manage your migrations is vital to your success.
Total Peace of Mind
RiverMeadow's Project Managers are experts in their field and they have years of experience in helping customers to keep on track with their with no unexpected costs, delays or downtime.
When you entrust your cloud migration to RiverMeadow project managers (PMs) we will ensure you achieve the well-delivered project you demand — with reduced effort and interruptions. RiverMeadow brings the following business-supporting benefits to your new cloud project:
Reduce delivery costs and overhead
Draw upon significant cloud migration and transformation expertise
Proven PM frameworks tailored for cloud projects to deliver real insight and expertise
Provides consistent, proven, repeatable delivery model
Track and manage your project's progress throughout your engagement and review objectives to help ensure success has been achieved
Cloud Migration Project Management Service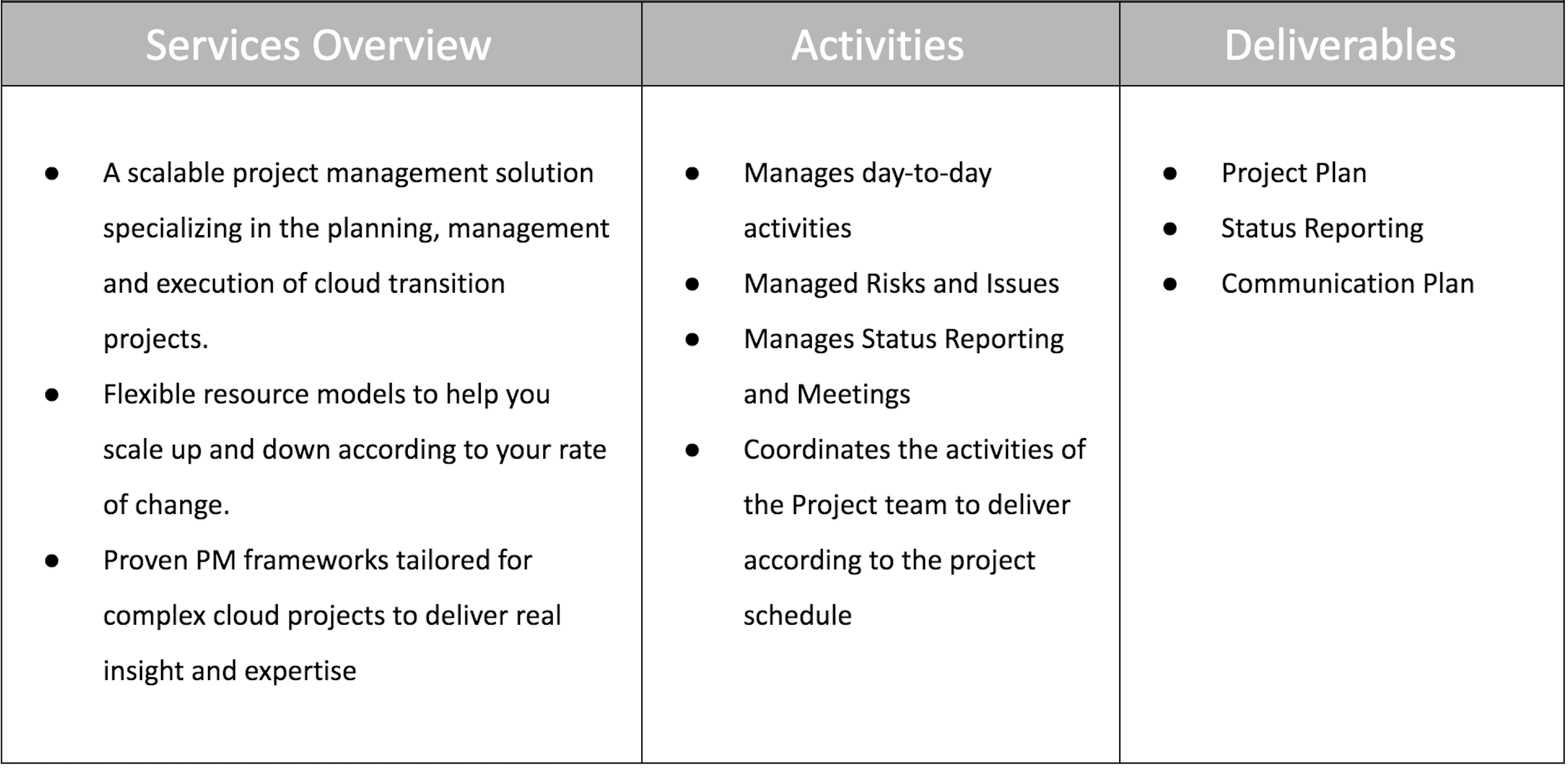 Identify customer's best-fit cloud provider and configuration depending on key goals and requirements
See projected performance of customer applications with recommended cloud configurations
Make accurate and informed decisions regarding your cloud adoption from planning to migration
Efficient & Effective Project Management
Our cloud architects start by interviewing your Infrastructure, Applications, and Operations teams to understand current policies and processes. Next they gather all of the required information in order to analyze your infrastructure and a detailed report is provided which includes:
Infrastructure configurations
Connected Shadow Infrastructure
Utilization data and performance metrics
Move groups and migration strategy
Optimal configuration for each workload
Action-Oriented Assessment
Applications that have been identified in the cloud strategy are profiled to capture resource requirements during normal and peak use times. In addition, we investigate and capture:
Disk utilization and capacity
Data retention requirements
Goal-Based Report
At the end of the Project Planning phase we will produce a detailed, action-oriented report that is focused on delivering value and direction to the next steps in your Cloud migration:
Costings Models to show cost savings through rightsizing workloads or license models
Cloud Sizing instance or VM on workload performance metrics and source machine configuration
Identify the best-fit target cloud service provider and cloud configuration
Project application performance with recommended cloud configurations
Make accurate cloud decisions
Power to Cloud with Confidence
Accelerate your journey to the cloud with RiverMeadow's Project Management Service. Our sole focus is your success and you can be confident that your end-to-end migration plans and execution are in safe hands with us.