RiverMeadow Software Earns Microsoft Azure VMware Solution Specialization, Showcasing Expertise in Migrating workloads to VMware on Azure.
Los Gatos, Calif., 07.11.23. RiverMeadow Software Inc., a leading provider of cloud migration solutions, is thrilled to announce that it has achieved the Microsoft Azure VMware Solution Specialization. This prestigious specialization recognizes RiverMeadow's expertise in deploying and managing VMware-based workloads on Azure VMware Solution (AVS). It solidifies its position as a trusted partner for Fortune 500 organizations seeking seamless VMware workload migrations.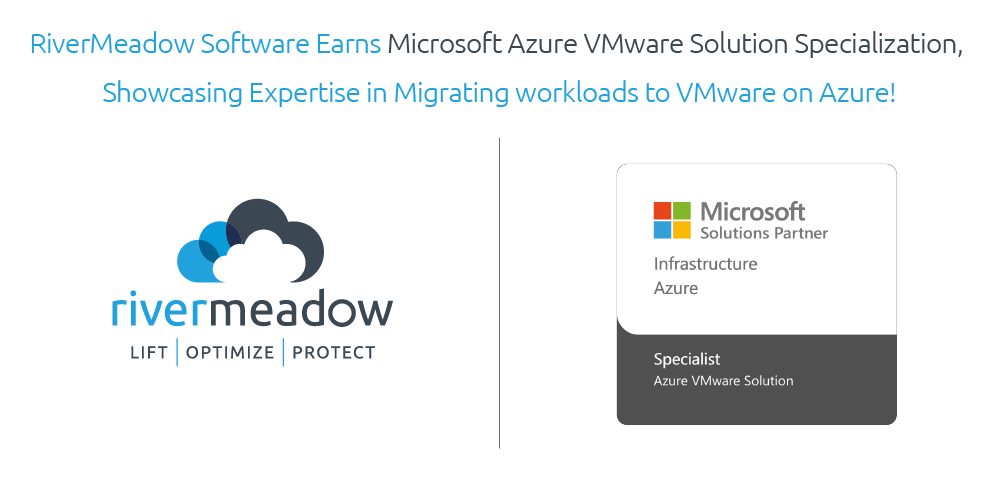 One of RiverMeadow's key differentiators is its market-leading Workload Mobility Platform, which allows businesses to quickly Migrate, Modernize, and Optimize their workloads onto AVS. AVS allows organizations to leverage the benefits of Azure's cloud infrastructure while maintaining compatibility and continuity with their existing VMware environments.
Rivermeadow's Workload Mobility Platform offers Organizations the following benefits:
Workload Mobility

Migrate and optimize workloads to any Public, Hybrid, or Private Cloud quickly, safely, and at scale.
Migrate from on-prem to on-prem, on-prem to cloud, cloud to cloud, or cloud to on-prem based on need and to avoid vendor lock-in.

Workload Modernization

Migrate and Modernize Workloads at scale to reduce technical debt and extend workload lifecycle.
Apply net new configuration to target workloads (operations & security stack, and security configuration).
Avoid extended support costs while improving the security posture.

Use case Addressability

Wider use case support than any migration product in the industry.
"We are delighted to have earned the Microsoft Azure VMware Solution Specialization," said Jim Jordan, President & CEO at RiverMeadow Software. "This achievement not only highlights our expertise in deploying, migrating, and managing workloads onto AVS but also underscores our commitment to delivering a differentiated suite of Migration Services and Product capabilities that address the unique use cases of our customers. Our Workload Mobility Platform allows businesses to migrate workloads to AVS faster, with less risk and with more value "
With its Azure VMware Solution Specialization and unique differentiators, RiverMeadow Software is poised to lead the way in simplifying and accelerating VMware workload migrations to AVS across all industries. The company's dedication to customer success, combined with its unmatched capabilities, positions it as the go-to partner for organizations seeking to leverage Azure's cloud infrastructure while preserving their VMware investments.
About RiverMeadow Software
RiverMeadow Software is a leading provider of cloud migration solutions, empowering organizations to seamlessly migrate their VMware workloads to AVS. With its comprehensive platform and deep expertise, RiverMeadow simplifies and accelerates the VMware workload migration process, enabling businesses to unlock the benefits of Azure VMware Solution while minimizing disruptions and risks.
For more information, visit www.rivermeadow.com