RiverMeadow | MITEL - CUSTOMER SUCCESS STORY

By Emma Tompkins on Jul 6, 2021 12:58:40 PM



Mitel: A Global Market Leader in Business Communications
Industry: Telecommunications
Location: Canada
Mitel migrates 1,000 VMware workloads to Google Cloud VMware Engine in less than 90 days to capitalize on IT standardization, automation and consolidation through next-generation cloud infrastructure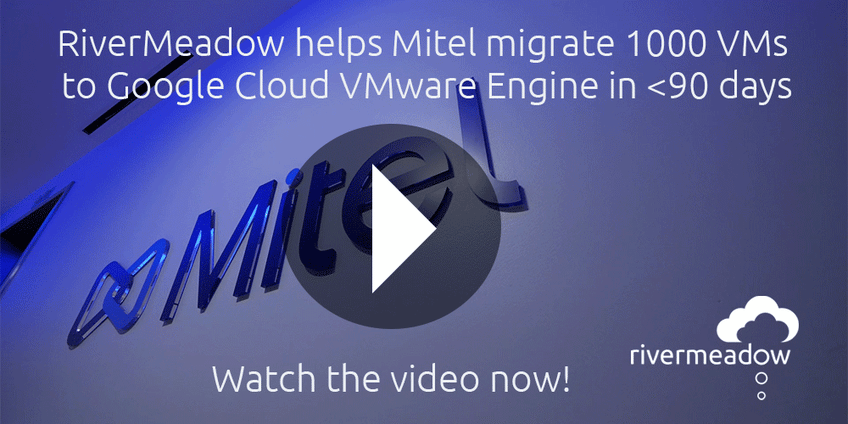 Mitel provides UCaaS (Unified Communications as a Service) solutions to 70 million business users in more than 100 countries. With 30 data centers across the globe, the company recently set out to move these out of on premise and into the cloud in order to capitalize on IT standardization, automation and consolidation.
The Business Challenge
According to Rick Cirigliano, Senior Vice President of Cloud Operations at Mitel "our challenges came down to the four 'S's': stability, scale, SLA and security." With 30 data centers globally, high OpEx and CapEx expenditures and longer lead times to bring innovations to market, the company looked to cloud services to overcome these issues and leverage more advanced IT infrastructure and services.
RiverMeadow – The Cloud Migration Partner of Choice
RiverMeadow was selected by Mitel to manage the discovery, assessment and migration of the company's VMware workloads into Google Cloud VMware Engine.
Rapid Migration Rates
An initial set of 1,000 VMs were identified for migration, including 160 terabytes of usable storage and 770 GBs of memory. "At its peak, the migration counts were running at 200 VMs per week, a significant achievement and a testament to our ability to handle migrations at scale and speed", explains Jim Jordan, President & CEO at RiverMeadow.
Zero Downtime, Zero Disruption
As a 24/7 global organization, Mitel needed to ensure zero service disruption throughout its cloud migration. "The support from RiverMeadow was exceptional", states Rick Cirigliano. "Thanks to their deep domain experience that provided a predictable migration readiness, we were able to expedite our global migration timeline down from nine months to less than six months without any disruption to our core business."
The Right Tools for the Job
There were several scenarios where HCX was not suitable for a particular use case. Coupled with aggressive timelines and contract-mandated maintenance windows, RiverMeadow's own proprietary Migration Platform was used as an interim measure. "RiverMeadow always takes a Services-led approach to migrations", explains Jim Jordan. "However, there are often times when our Migration Platform is needed to give additional flexibility and functionality, depending on the use case. This ensures our customers receive the highest level of migration success they require."
Significant Success Across the Business
Since completing the migration, Mitel has seen a significant improvement across many areas of the business, including:
Realizing a 4x increase in monthly Operational Output
Reducing OpEx and CapEx for IT infrastructure
Standardizing the global service delivery platform
Speeding up time to market for new UCaaS services
Enhanced security controls and business continuity capabilities
"Our VMware migration to Google Cloud has improved our time to market to support higher revenues," says Rick Cirigliano. "We have also seen benefits in our operational scale resulting in a 4x increase in productivity, thanks to the Google Cloud ecosystem."
"A Very Positive Experience"
"We look forward to expanding our relationship with Google Cloud and RiverMeadow as we grow our cloud footprint," says Rick Cirigliano. "It's been a very positive experience working with RiverMeadow and Google Cloud and we are excited to see what we can achieve in the future." With the migration a success, plans are also underway to extend Mitel's global cloud footprint into Europe and Australia with roughly 350 additional VMware workloads to be migrated onto Google Cloud VMware Engine.
About Mitel
A global market leader in business communications powering more than two billion business connections, Mitel helps businesses and service providers connect, collaborate and provide innovative services to customers in more than 100 countries.