RiverMeadow vs. Azure Migrate—A Head-to-Head Comparison for OS Modernization

By Emma Tompkins on Nov 1, 2023 11:29:50 AM



As businesses grapple with the complexities of technical debt, the ever-present risks of security vulnerabilities, and mounting pressures of regulatory non-compliance, the threat of catastrophic business disruption or crippling financial penalties looms larger than ever. In this high-stakes environment, OS modernization ceases to be merely an IT strategy and elevates itself to a non-negotiable business imperative.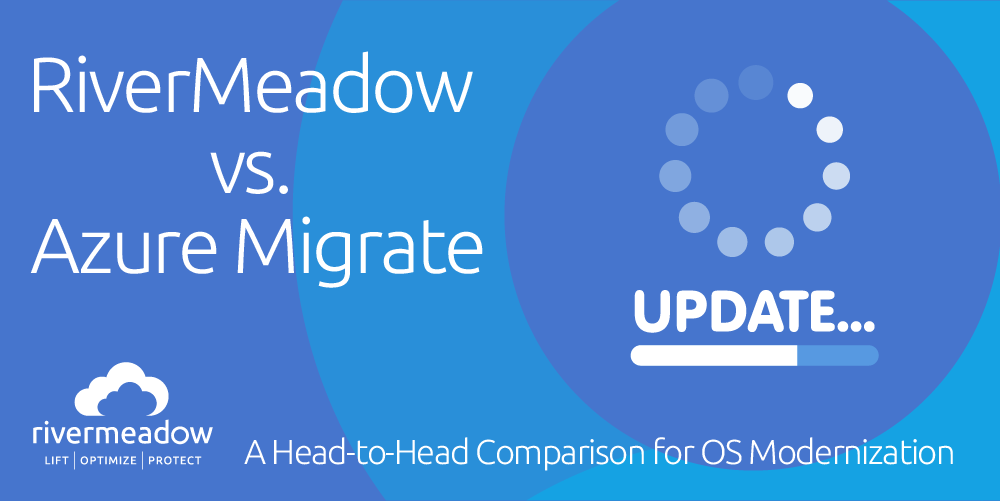 RiverMeadow, a unique platform and service vendor in this critical sector, has established a formidable market presence and delivered unparalleled business benefits to its Fortune 500 customer base. By choosing RiverMeadow for your OS modernization needs, you are not just mitigating risks but potentially saving millions of dollars in Microsoft Extended Security Updates (ESU) fees in one strategic move.
Azure Migrate OS Modernization from Microsoft, the new player in the market, affirms RiverMeadow's original thinking, established processes, and industry leadership. In this comparative analysis, we will delve into the distinct features of each platform, highlighting instances where RiverMeadow's depth of expertise offers a clear advantage.
Scenario 1: Legacy Systems
Azure Migrate: Limited to upgrading to two versions from the current OS. Includes: Win2012, Win2012R2, Win2016 & Win2019

RiverMeadow:

Can modernize from Windows Server 2003 (64bit) to 2022, offering a broader range of upgrade capabilities for legacy systems.
Scenario 2: Complex Migration Paths
Azure Migrate: Limited to On-prem to Azure cloud only.

RiverMeadow: Supports a wide array of migration paths, from on-prem to on-prem, on-prem to cloud, and cloud to cloud, meeting the needs of businesses with complex infrastructures.
Scenario 3: Security and Compliance
Azure Migrate: Provides isolated testing environments within Azure.

RiverMeadow: Ensures that target clones run in isolation, protected by cloud-based firewalls, offering an added layer of security during migration.
Scenario 4: Multi-Cloud Strategy
Azure Migrate: Limited to Azure cloud, not ideal for a multi-cloud strategy.

RiverMeadow: Unique Multi-Cloud, Multi-Platform workload mobility ensures you're not tied to a single cloud provider, offering flexibility across multiple clouds.
Scenario 5: Non-Microsoft OS Modernization
Azure Migrate: No support for Non-Microsoft OS modernization.

RiverMeadow: Offers modernization support for RHEL, CentOS, OEL 6.x through to 9.x, catering to diverse operating system landscapes.
Comparison Table
RiverMeadow vs. Azure Migrate

Feature/Aspect

Azure Migrate OS Modernization

RiverMeadow OS Modernization

Upgrade Capability (Microsoft OS)
Upgrade up to two versions from the current OS version. Includes: Win2012, Win2012R2, Win2016 & Win2019
Modernize Windows Server 2003 (64bit) through Windows Server 2022, Windows 7 through to Windows 11.
Upgrade Capability (Non-Microsoft OS)
Not Possible
Modernize RHEL, CentOS, OEL 6.x through to 9.x.
Test Migration
Provides a test migration feature to test OS upgrades in an isolated environment in Azure​​.
Cloning workloads to target clones running in isolation for safe and predictive migration, with validation possible during regular business hours.
Migration Process
Simultaneous upgrade and migration operations, reducing duplicate planning and downtime. (On-prem to Azure Only)
Supports on-prem to on-prem, on-prem to cloud, or cloud-to-cloud transitions, with delta sync for source and target workloads leading up to the planned cutover event.
Isolated Environment Testing
Provides an isolated environment for testing in Azure​.
Target clones run in isolation, protected by cloud-native firewalling or private cloud network isolation for testing and validation before cutover.
Supported Environments
VMware, Hyper-V, and Physical servers.
RiverMeadow is a cloud-agnostic Workload Mobility Platform supporting migrations from ANY Source to: Azure/AVS, GCP/GCVE, AWS/VMC, vSphere, and OpenStack.
Prerequisites
VM must have the capability of adding another data disk. Have 32 GB of free disk space on the OS disk, and use Windows Server Standard or Datacenter editions. En-US language servers only.
For Windows-based OS Modernization, at least 25GB of free space is required on the System Volume (C:) for temporary folders created by the upgrade.
Source Appliance required
Yes, it is a time-consuming effort to create on-prem resources, assign permissions, discover the environment, and initiate replication.
No - agent deployed automatically in minutes from the RiverMeadow platform.
Warnings, failure detection, and remediation capabilities.
Once a system is migrated successfully or not, it is removed from the source list. Failed upgrades result in a lift and shift migration.
Failed upgrades can immediately be rectified and run again.
Custom Scripting
Not specified
Allows uploading and invoking custom scripts during migration to modify Operations stack and/or Security configurations on target machines.
Performance Metrics / Right-Sizing
Not specified
Provides agent-less and real-time source VM performance metrics and right-sizing recommendations as part of a migration to VCF, AVS, GCVE, or VMC.
Network Optimization
Not specified
Supports L2 or L3 migrations with features like retaining IP/MAC, modifying NICs and IP addressing, applying new MTU sizes for VXLAN and other 3rd party technologies, and applying firewalling or Security Groups.
Storage Right-sizing
Not specified
Resize target partitions as part of migration to reduce storage footprint in the cloud.
Conclusion
RiverMeadow stands as the superior, established choice for a multitude of reasons, not just limited to multi-cloud strategies and legacy system modernization. With its seasoned expertise and validated processes, RiverMeadow offers a comprehensive, proven, and secure solution for fully automated OS Modernization. Here's why RiverMeadow outshines the competition:
Speed and Scale: RiverMeadow can migrate workloads in minutes, not days, weeks, or years, allowing businesses to minimize downtime and maximize operational efficiency.

Cost-Saving Optimization: By choosing RiverMeadow, you not only mitigate risks but also have the potential to save millions in Microsoft ESU fees, making it a financially savvy choice.

Multi-Platform Support: Whether it's Windows or Linux, RiverMeadow has you covered. Its support for a wide range of operating systems ensures you're not limited in your modernization efforts.

Security and Compliance: RiverMeadow's commitment to running target clones in isolated, cloud-protected environments adds an extra layer of security, ensuring compliance with industry regulations.

Customer Success: RiverMeadow's track record of delivering immense business benefits to its Fortune 500 customer base speaks volumes about its reliability and effectiveness.

Flexibility: From on-premises to multi-cloud, RiverMeadow's range of migration paths provides unmatched flexibility, allowing businesses to choose the best fit for their unique needs.
In summary, RiverMeadow offers a well-rounded, secure, and efficient solution for OS modernization, with speed and at scale, solidifying its position as the market leader in this critical domain.
Take Action
Ready to elevate your OS modernization strategy? Talk to a RiverMeadow Expert Today, and let us help you move your Workloads in minutes, not days, weeks, or even years.