Why Cloud lies at the Heart of Digital Transformation

By Jim Jordan on Feb 12, 2019 9:51:51 AM



Digital transformation is big business. By 2020, 83% of enterprise workloads will be in the cloud. Meanwhile, on-premise workloads are predicted to shrink from 37% today to 27% of all workloads. Unquestionably, the decision to embrace cloud is no longer a matter of debate. As each industry becomes increasingly technological, cloud has evolved from being a market disruptor to a prerequisite for business survival.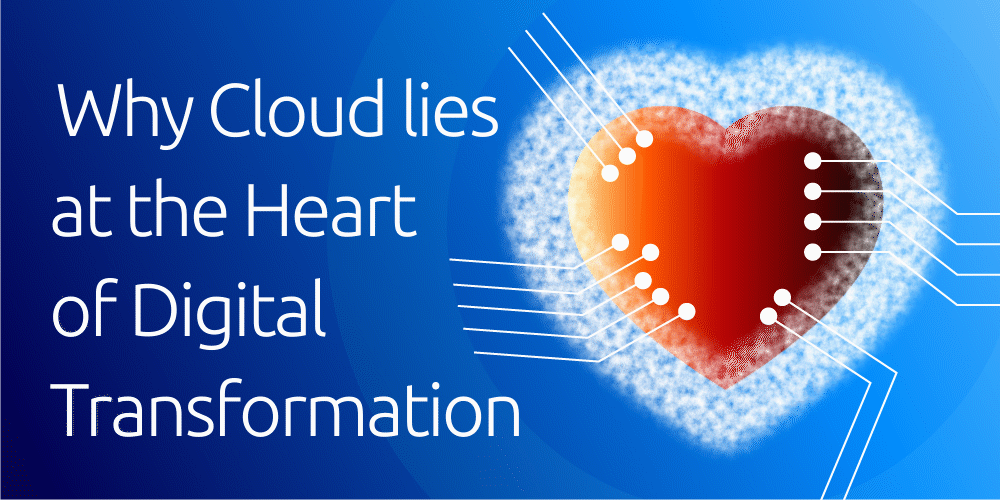 Despite the universal acceptance of the digital imperative, many are left with their head in the clouds. What does digital transformation actually mean and why is cloud a catalyst for this change?
What is digital transformation?
Digital transformation represents a radical overhaul of how enterprises use technology to tap into new information and service-driven revenues. This cultural shift in the way organisations incorporate technology has redefined the respective roles within those ecosystems. New business models have subsequently emerged out of adapting to the way modern business operates in today's hyper-connected age.
Modernisation has become a matter of moving faster. In today's customer-centric and ever-competitive world, businesses need to respond to changes in the marketplace quickly. With security compliance, cyber attacks and the emergence of a new breed of agile competitors that are more people-orientated, innovative and customer-centric, businesses must rethink the way they consume IT infrastructure.
What role does cloud play in digital transformation?
As both an enabler and driver of digital transformation, cloud is the beating heart of this shift in mindset, processes and systems. It represents the eye of the digital storm, changing the way businesses use technology to streamline the entire organisation from top to bottom. This has radically altered the landscape of the business world, creating more opportunities for innovation and accelerating the pace of disruption.
Enhanced Business Agility
As a dynamic workforce model that presents a low risk and high performing solution, cloud technology allows for continuous optimization across the organization with the kind of flexibility that is not possible when using on-site physical solutions. By offering an increased rate of product development and IT support, cloud ensures businesses can integrate tools that align with their business objectives, and in response to ever-changing security regulations and market disruptions.
Improved Business Productivity
Digital transformation has a lot to do with unfettering businesses from the restraints of legacy IT systems, which are a significant burden on a company's bottom line. The pay as you use model which cloud is centred around means that spending is only allocated to resources that provide value to a company. The reduction of wasted IT resources that inhibit investment in new digital services allows businesses to better manage spending and ensure it is directed towards innovation rather than maintenance.
When it comes to the time needed to deploy a storage solution, the cloud is, undeniably, more suitable than on-site solutions. SaaS deployment is virtually non-existent compared to on-premise platforms, where the IT team has to spend more time to procure and install the infrastructure.
Automated updates made available through the cloud allow businesses to continually optimize their performance without relying on in-house servers, which are prone to outgrowing their capacity. It also alleviates the pressure on IT departments, who no longer have to worry about purchasing additional resources to maintain performance and install the latest security updates.
An impending office relocation is a perfect time to adopt a cloud-based infrastructure and streamline business productivity. This avoids the ramifications of losing critical data or damaging hardware, which on-premise IT infrastructures are at risk of during a relocation. Leveraging a cloud-based infrastructure before relocating ensures that a disaster recovery plan can be evoked and business continuity is ensured before, during and after the move.
When migrating customized features, on-premise solutions demand IT teams to redeploy the entire system across the organization. However, cloud allows organisations to migrate their customized features. These can be restored to a previous or future versions of the solution.
Increased scalability
The cloud application market will increase by 17% by the end of 2020. With each sector driven by the emergence of new applications and models, businesses need to be continually evolving, ready to adapt to the market and change their business priorities. Cloud facilitates flexible, on-demand access to resources underpinning these new digital business offerings. Such a dynamic workforce model is fundamental to creating a future-proof business - one that that is empowered to make accurate and timely strategic decisions and investments based on market fluctuations.
In addition to scalability, cloud also offers the elasticity required to grow or shrink infrastructure resources dynamically in accordance with workload changes. This is particularly beneficial for retail and e-commerce enterprises that have a less predictable workload due to ever changing demands on infrastructure services.
Better security
With regulatory compliance and security concerns at the top of every CIOs agenda, firms must dedicate considerable attention to their current IT security, both now and in the future. Firewall policies, national regulations and authentication mechanisms are just some examples of a likely long list of items to be considered.
Cloud offers a secure point-to-point migration. This means that data is protected by a firewall during the migration and data is not visible to any 3rd party at any time. Data can also be transferred via a customer's preferred routable path to ensure alignment with the organisation.
Automation
Automation technologies help many IT organizations gain speed and reduce technical debt. Updates made available through the cloud significantly reduce the time IT departments spend on fixing, updating and installing new patches of software that legacy systems demand. This is changing the CIOs role, whose job is no longer focused on traditional technology management, but on innovation and executive decision making that can propel the business forward into the digital age.
Conclusion
Digital transformation is imperative to business survival. As support for legacy systems such as Windows Server 2008/SQL Server 2008 are gradually phased out, businesses must be looking ahead to the journey and preparing for unplanned failures, data loss and security regulations. Whilst each company's journey to digital transformation will be unique, the destination remains the same.
Businesses that leverage a cloud migration solution will effectively balance agile innovation with continuity, scale at volume, reduce IT costs and mitigate security risks. Those businesses that are reluctant to evolve with tomorrow's technology will inevitably be left behind in a vortex of turbulence.