Fast, Low Cost & Low Risk Cloud Migration
RiverMeadow leads the market with its Self-Service Cloud Migrate module that dramatically reduce the time, cost and risk associated with moving physical, virtual and cloud-based workloads into and between public, private and hybrid clouds. Agentless, non-intrusive and hypervisor agnostic, Cloud Migrate delivers cloud migrations at scale with no interruption to the current workload function and performance. Replicated source workloads are created in the target cloud and can be securely live tested, pre-validated, synchronized prior to cutover.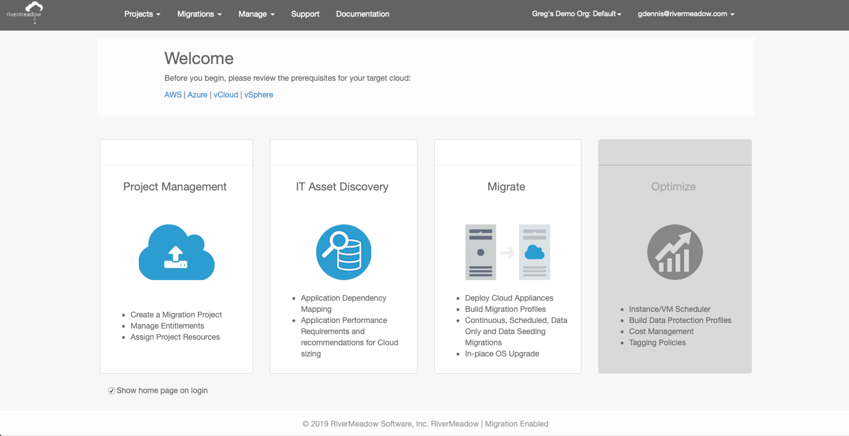 Whether you are migrating servers, databases or applications such as web and multi-tiered apps or even entire DevTest environments RiverMeadow's Cloud Migrate module is your fast-ticket to the cloud.
Powerful Cloud Migration Platform
Datacenter Secure - Migrate behind the firewall
API-Driven - Hypervisor agnostic
Web-based GUI - Easy to use, migrate servers and apps with just a few button clicks
As-Is, Agentless Migrations - Non-disruptive, No Shutdowns or reboots
SaaS-based - No installs, PaaS lock-in or long-term contracts
AWS IAM Role Support - Instantly gain access and connect servers to target Cloud services
Bulk Migrate Workloads - Import N number of servers and migrate them under a single project plan
RESTful API - Bypass the need for hypervisor access or integrate with cloud tools
Report & Audit - View detailed reports and audit trails of all your migration projects
Scheduler - Schedule migration projects to run at optimal days and times
Pre-flight & Readiness Check - Verifies servers will migrate successfully and alerts to any issues that require attention
AMI Support - Create AMIs post migration supporting your ability to launch additional instances
Migration Extensions - Customize server(s) during the migration process e.g. server edition upgrade
Variable Delta Sync - Flexibility to choose either Block or File based sync depending on your needs
Multi-Project Support - Manage multiple projects or clients under a single migration account
Migration Plans - Create migration project plans that you can reuse over and over again
World-Class GUI
RiverMeadow features a user-friendly GUI that makes it easy to migrate servers to the cloud with just a few clicks of a button. Through the GUI, target clouds can be set up, source servers added to a migration library, migration plans created and migrations executed and archived. The ability to auto collect and view server attributes prior to migration decreases the risk of user error and accelerates the migration process. Once you've collected and configured the migrations from the GUI, simply click migrate and Cloud Migrate does the rest.
Why Wait? Migrate with RiverMeadow
As the only Cloud Migration solution that offers a fully integrated Platform, RiverMeadow believes in giving our customers the freedom of choice when it comes to deciding on which approach best suits your needs. Talk to a Cloud Migration Expert today to learn how best to embark on your journey to the cloud with confidence and ease.