Better Results in Less Time
Keeping a tight control of your migration projects is a huge challenge for most IT departments. With so many steps needing to be carefully managed and monitored across multiple teams for each migration, it's no wonder that mistakes get made. Everyone needs to be working off the same script but version control can be hard to manage without the right tools, and unwieldy spreadsheets simply don't cut it.
Building on RiverMeadow's rich end-to-end Multi-Cloud Migration Platform with Project Management capability, we have created a new feature - the Migration Planner - to help you manage all your migration projects from start to finish.
Migration Planner gives you the ability to plan and track all your projects from within our Platform. It is easy to set up and you can customize each migration plan to suit your specific needs. The progress of each migration is automatically tracked using data stored by RiverMeadow, making it highly intuitive and easy to manage.
Because all relevant migration steps are stored inside RiverMeadow's Platform you don't need to track each one in Excel, giving you greater control and flexibility over how you manage your projects. Data is dynamically saved in the UI and can be exported to a CSV file if and when required for any external reporting and tracking.
By managing migrations from within our Platform you will have greater control over your projects from a single source, saving you precious time and resulting in a better outcome.
Take Control with Migration Planner
Under the Migrate menu, Migration Planner tracks the migration progress using information RiverMeadow knows about the migration as well as allowing the user to specify metadata or additional context to each migration.
The default view (see below) contains the essential progression steps that make up a migration such as:
Application Owner

Sprint Reference, Source IP, Host Name and OS

Target Cloud and Cloud Region

Inspection, Full and Differential Status

UAT and Cutover Status

Modify Columns - Customize for Flexibility
You can also Modify, Sort and Add custom columns to build out the Migration Planner to suit your migration project needs. Custom columns align to a Migration Runbook or Method of Procedure for conducting migrations within the your given environment.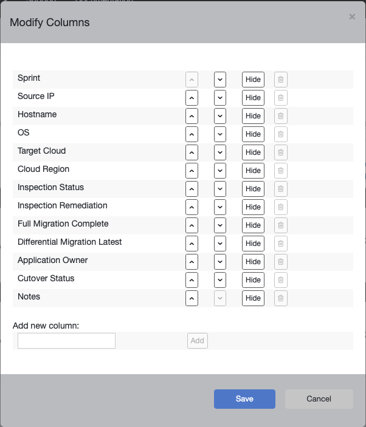 A Fully Integrated Platform
RiverMeadow offers a flexible, feature-rich Multi-Cloud Migration Platform that is easy to set up and deploy, giving you all the tools you need to onboard to the cloud quickly and cost-effectively. Add in our Fixed Price Service capability and we will transition you to the cloud faster and more cost effectively than any other service provider.
To help you realise your cloud onboarding goals, talk to a Cloud Migration Expert today or schedule a demo of our Platform to witness the power of our Platform in action: