Manage your Cloud Migration Projects
RiverMeadow's fully integrated Platform comprises four modules to streamline the management, discovery, migration and optimization of large-scale workloads to and between clouds. Designed specifically to address the roadblocks and complexities for mass migrations to multi-cloud environments, our Self-Service Project Management Module will enable you to onboard to cloud on time and on budget.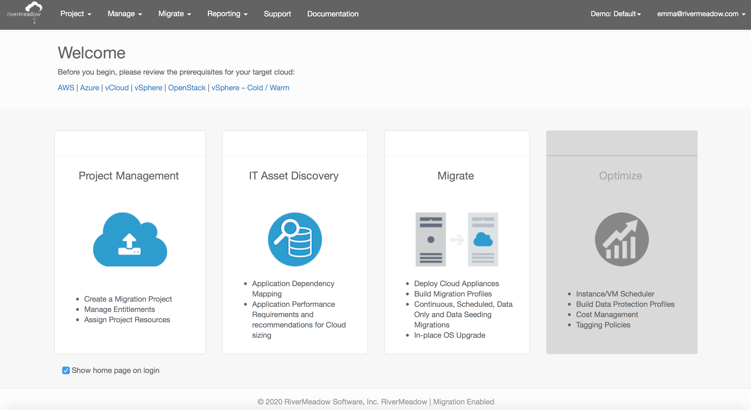 Why use RiverMeadow's Project Management Module?
Our Self-Service Project Management Module will help you to plan, manage and execute your migration projects with accuracy and precision. The easy-to-use GUI interface enables you to create a migration project, manage entitlements, assign project resources and deploy cloud appliances - all with ease and speed:
End to end project delivery workflow: From Discovery to Migration
Create a Project, Establish Milestones (based on Move Groups)
Assign Project Resources (Create users, Assign roles, Delegation)
Deploy Cloud Appliances (Single, Hybrid, Multi-Cloud, Multi-Region)
Manage Entitlements (Assign from pool to Project via self-service)
Report on Status & Report Issues
As the only Cloud Migration solution that offers a fully integrated Platform, RiverMeadow believes in giving our customers the freedom of choice when it comes to deciding on which approach best suits your needs. Talk to a Cloud Migration Expert today to learn how best to embark on your journey to the cloud with confidence and ease.