Warm, Hot and Cold Cloud Migration
Customers and Partners can now migrate existing applications with RiverMeadow's end-to-end Cloud Migration Platform and Services, providing ultimate flexibility depending on the use case.
In order to meet customer demands around mass migrations, RiverMeadow has enhanced its market leading Cloud Migration Platform and Services to address additional use cases, giving customers flexibility under one Platform. This enhanced capability is available for migrations from any VMware vSphere environment to any VMware Private Cloud on Public Cloud with additional Public Cloud support coming in the near term.
As the only independent cloud migration company to offer this breadth and depth of Product and Service support, RiverMeadow is further extending its use case support by offering Warm Migration, Hot Migration and Cold Migration capability. We defines these methods as follows:
Warm Cloud Migrations - Mid-level downtime:
The source machine is quiesced for a very limited window while RiverMeadow clones the machine at the VMDK level. The clone and sync is carried out in a single, automated manoeuvre which drastically reduces the downtime required to the source application. Both source and target are available within minutes as data copy continues to stream to the target until completion.
Hot Cloud Migrations - Near-zero downtime by live cloning:
RiverMeadow delivers a live clone of the workload to the target environment which offers a safe and reliable migration approach that allows for application testing and performance monitoring before final synchronization and cutover. Hot migrations can also be performed across slower networks with higher latency if necessary. In addition, User Acceptance Testing can be done in parallel without impacting the source machine.
Cold Cloud Migrations - High-level downtime:
The entire workload is powered off and the VMDK file is copied to the target. This is an easy method of transfer as there are no changes made at the source which prevents the need for delta (or differential) syncing of data between source and target. However, this method can only be used if application owners can manage extended and often significant down times at the source. These can amount to several hours or even days depending on the size of machine and speed of network so this method will not be suitable for some use cases.
-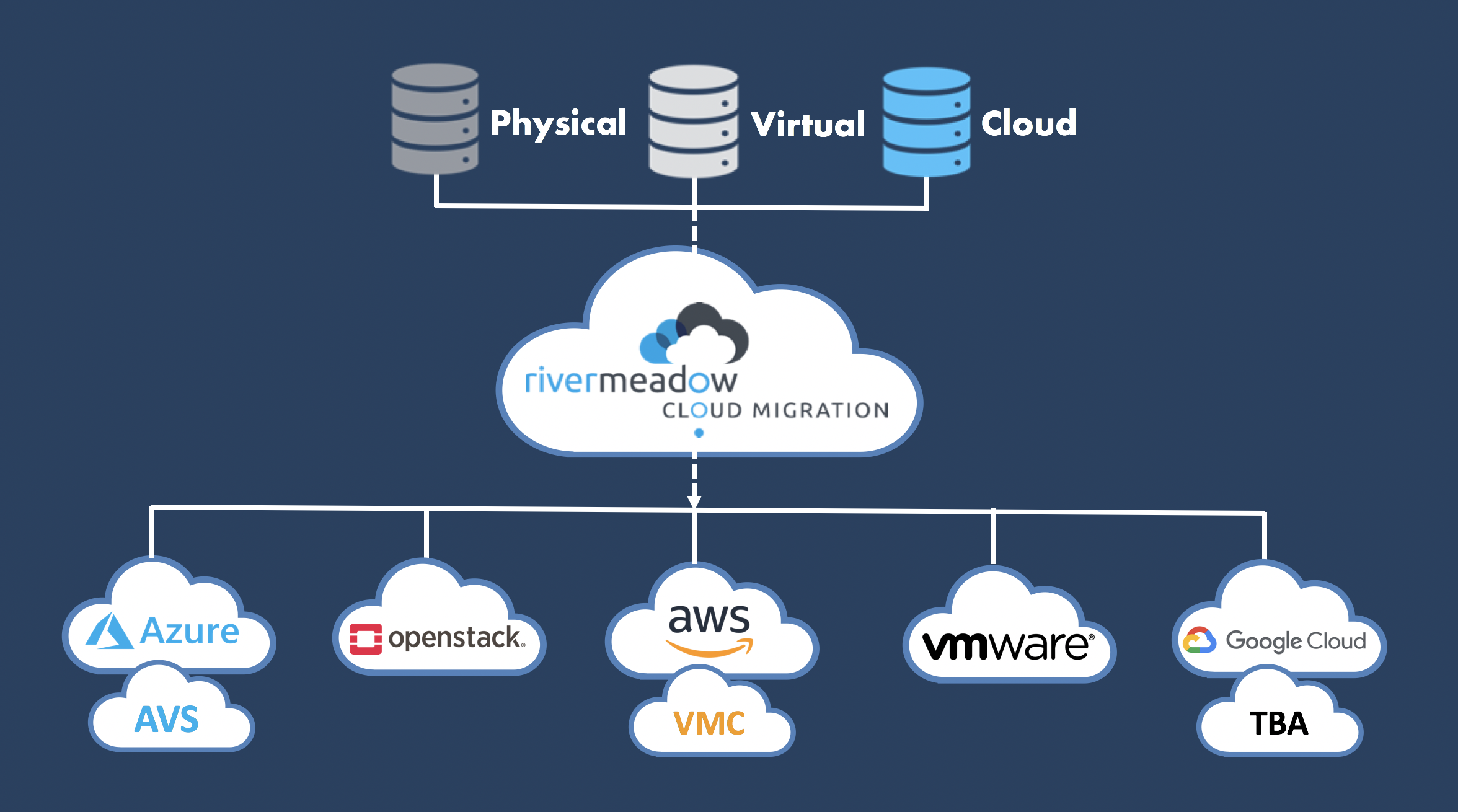 RiverMeadow's Warm, Hot and Cold Migration capabilities, coupled with our expertise around the tooling and process, will increase the speed of your migrations. Simply put, we guarantee you get the job done. Add in our integrated Project Management and Discovery Modules and our Platform and we will get you to your target cloud faster and more cost effectively than anyone else.
We believe in giving our customers the freedom of choice when it comes to deciding on which approach best suits your needs. If you are looking for a Cloud Migration Platform and Services that provide the ultimate level of flexibility in terms of cloud migration strategy and specific business needs talk to a Cloud Migration Expert today to learn how best to embark on your journey to the cloud with confidence and ease. Alternatively, schedule a demo of our Platform here:
Watch RiverMeadow Software in Action