Why RiverMeadow Workload Mobility Platform is better than M2VE

By Emma Tompkins on Mar 23, 2023 10:50:54 AM



When embarking on a cloud migration project, it's important to choose a platform that meets your specific needs and requirements. With the market offering a variety of migration tools, RiverMeadow's Workload Mobility Platform stands out as a superior solution when compared to Migrate to Virtual Machines (M2VM), formally Migrate for Compute Engine (M4CE). With its flexibility, ease of use, and support for diverse use cases, RiverMeadow is a go-to choice for businesses looking to migrate and modernize their virtual machines efficiently and effectively.
---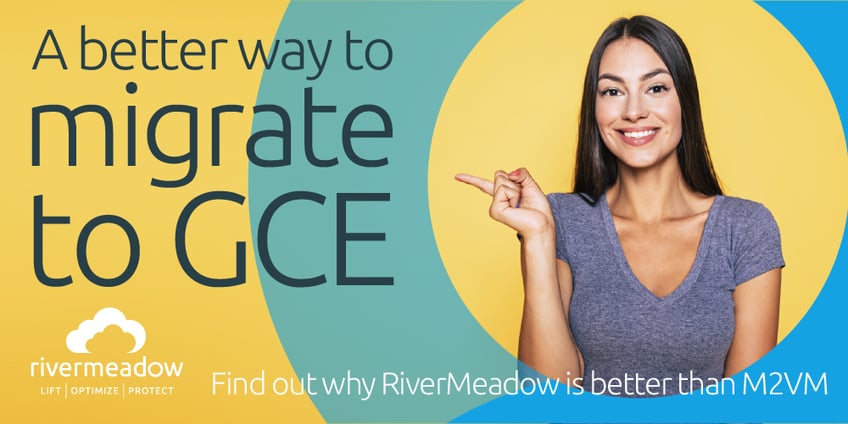 RiverMeadow's unique, flexible Workload Platform is proven in the market across many Fortune 100 customers over countless industry verticals. Having completed many large-scale cloud migration projects over the past 12 months, we wanted to share with you many of the advantages of RiverMeadow's Cloud Migration Platform when compared to M2VM.
Advantages

RiverMeadow

Migrate to Virtual Machines M2VM
(formally known as M4CE)
Multi-Cloud Migration
Support for both Compute Engine and VMware Engine.
Support for Compute Engine Only.
OS Modernization
Modernize target operating Systems during migration to reduce technical debt (Windows Server, Windows Desktop, Linux).
Lift and Shift (like for like only)
Infrustructure Modernization (InfraMod)
RiverMeadow automates Day 2 operations using automation as part of the migration process (Modify or Replace Operations software, Security software, Security configuration, and more).
Any changes to the Instance in Compute Engine post-migration must be done manually to each target instance.
Source Machines
Support for ANY ( Physical, any Virtual, or Cloud).
vSphere, AWS, and Azure Sources only.
Access to Source vSphere

Not required - RiverMeadow can migrate workloads even if access to source vShpere hypervisor isn't permitted (this is the case when migrating out of service Provider datacenters).

Required - M4CE can't migrate workloads out of Service Provider datacenters where access to source vSphere hypervisor isn't permitted.
RiverMeadow's InfraMod capability modernizes application infrastructure as you move workloads to the cloud, decreasing technical debt while improving security, compliance, performance, standardization, and cost. This can result in significant savings, often in the order of tens of millions of dollars in annual operating costs.
RiverMeadow's Cloud Migration Platform offers flexibility to address diverse use case requirements. Its unique and flexible platform can help you ensure a smooth migration to GCE, extending the life of your existing workloads and providing a cost-effective and safe way to modernize your application infrastructure.
If you're looking to migrate and optimize your VMs with speed, scale, and certainty, RiverMeadow can help. Benefit from RiverMeadow's unique multi-cloud, multi-platform workload mobility and cost-saving optimization capabilities. Talk to a RiverMeadow expert today, and let us help you move your workloads in minutes, not months.