Why RiverMeadow Workload Mobility Platform is better than HCX

By Emma Tompkins on Feb 9, 2023 7:19:12 AM



When it comes to large-scale Cloud Migration projects, use case addressability becomes paramount. The diversity of use cases, the variety of sources, and source environments often become blockers for FREE tools like HCX.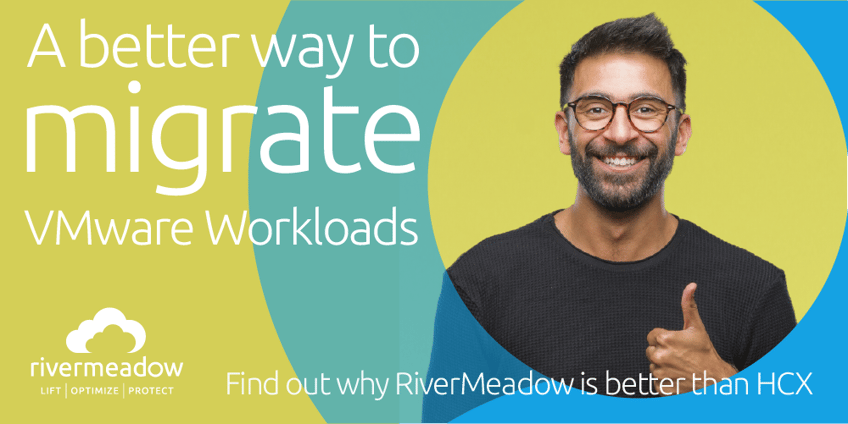 RiverMeadow's unique, flexible Workload Platform is proven in the market across many Fortune 100 customers over countless industry verticals. Having completed many large-scale cloud migration projects over the past 12 months, we wanted to share with you many of the limitations we have found associated with HCX.
Check out the following advantages of RiverMeadow's Cloud Migration Platform when compared to HCX:
HCX Limitation

RiverMeadow

1.

Limited support for non-vSphere- based machines (Physical, Virtual, Cloud) ** OSAM is very limited.

Support for migrations of ANY machine to any native cloud or hybrid cloud.

2.

Only works to target vSphere environments (AVS, GCVE, VMC, On-prem). For projects going to multi-cloud (VMware vSphere and native public cloud) 2-3 different migration tools may be required (ex. HCX, HCX Migrate, ASR). All with different requirements.

Support for migrations to VMware vSphere (AVS, GCVE, VMC, On-prem) and to public clouds (HCX, Google Cloud or AWS) in a single pane of glass.

3.

Requires Access to Source vSphere hypervisor to deploy virtual appliances.

Does not require access to the Source hypervisor – helpful in "Hostile" migrations; migrating out of existing CSP/Colo or where capacity doesn't allow on-prem deployments.

4.

No Support for < vSphere 6.5

Support for migrations off any source vSphere version.

5.

Conflicts with VMware SRM (vSphere Replication)

OS-based nor VM-based migrations conflict with VMware SRM or vSphere Replication.

6.

Large infrastructure footprint required in both Source and Target vSphere environments. Scaling requires multiples of 3 in both source and target.

Tiny infrastructure footprint

7.

Next to no migration telemetry in the product – too much guesswork when planning cutover windows.

Detailed migration telemetry. Plan migration windows down to the minute.

8.

HCX is very slow to replicate data.

RiverMeadow is 10x faster than HCX replicating data as part of migration.

9.

HCX network underlay requirements are not conducive to smaller or unstable networks – IPSec tunnels fail often.

RiverMeadow has been designed from the ground up to handle any network, including those with high latency and low bandwidth.

10.

No fine-tuned control over syncing / target is offline until cutover.

Target is available in isolation for UAT ahead of cutover. Fine-tuned sync allows just files or folders to sync / multiple forms of sync for great flexibility.

11.

No ability to modify virtual hardware as part of a migration.

Ability to change vCPU's (cores and sockets) and vRAM as part of a migration to right-size workloads moving to cloud.

12.

No ability to resize disks as part of migration.

Ability to resize disks as part of migration to reduce target storage requirement to reduce OPEX in cloud.

13.

No ability to exclude virtual disks as part of migration.

Ability to select which disks to migrate.

14.

No ability to modernize the Operating System as part of migration

Ability to modernize versions of Windows Server starting from 2003 up to 2019 as well as Windows Desktop from 7 to 10 and Redhat 6.x to 7.9. Reduce technical debt as part of migration.

15.

Long list of limitations, including no support for:

VM's with DirectPath I/O devices

VM's with Shared SCSI bus

VM's using vNVME controllers

VM's on vVOL datastores

as well as no L2 support for:

vSphere Standard Switches

Cisco Nexus / Cisco ASR or any other 3rd party switches

vSphere Distributed Switches with LACP configured

RiverMeadow can perform migrations of any source VM and/or VM Network configuration.
Be sure all your Cloud Migration needs can be met before you start.
Time and again, our Cloud Migration specialists have seen 'Free' migration tools like HCX grind projects to a halt because of their lack of flexibility to accommodate customers' diverse use case needs. That's why RiverMeadow has built a highly flexible Multi-Cloud Migration Platform that can address the vast majority of different use cases and constraints in one tool using one process.
There is a better way! - Talk to our Cloud Migration Experts today when looking for a Cloud Migration Platform that offers ultimate flexibility to address all and any of your diverse use case requirements.