Migrate & Modernize

By Jim Jordan on Feb 18, 2020 10:15:02 AM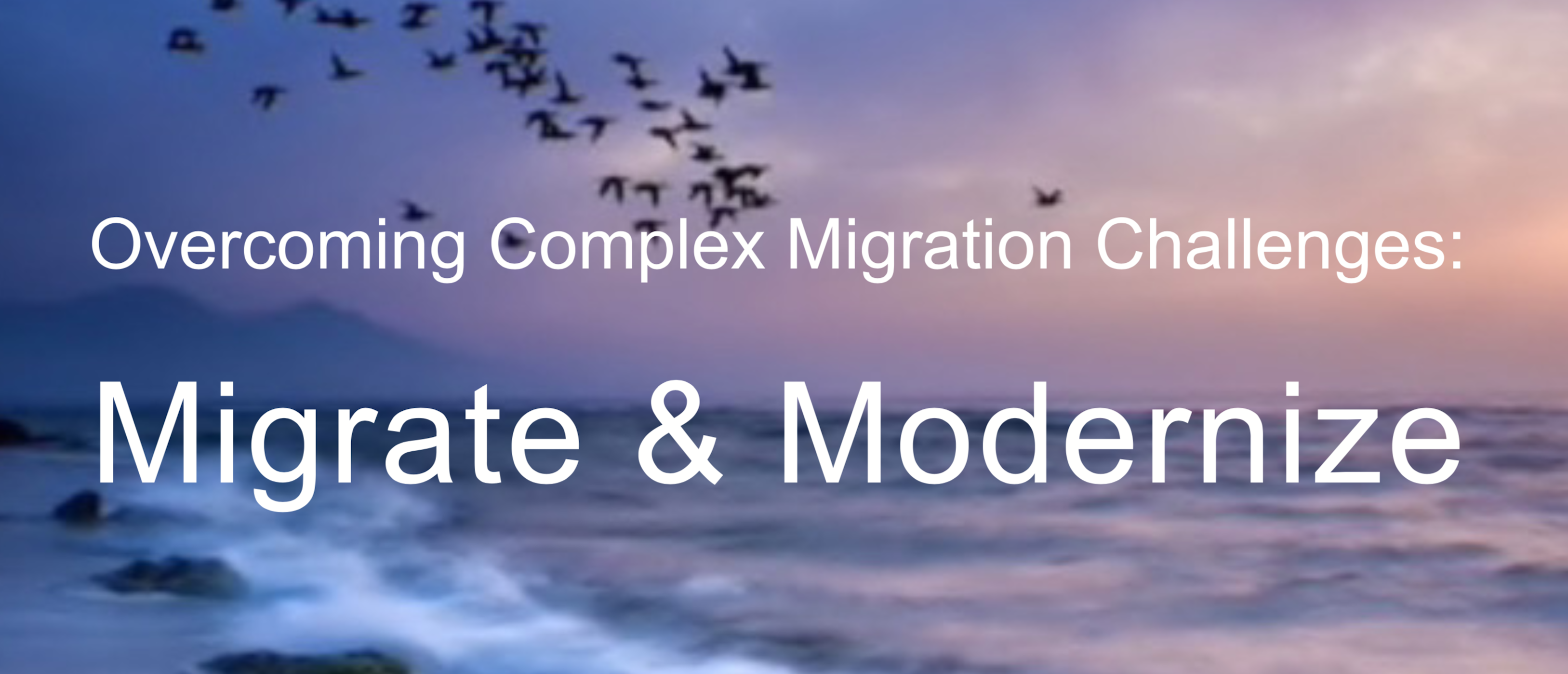 Over the last few quarters RiverMeadow worked with numerous customers and performed hundreds of migrations to mitigate technical debt as part of their migration projects. Drawing on our extensive knowledge and know-how and utilizing our market leading Multi-Cloud Migration Platform, our Cloud Migration Experts were able to overcome a diverse set of migration challenges quickly and cost effectively. Below is an example of one of these projects:
Customer Problem
Our customer was using a commercial off-the-shelf (COTS) application and SQL Server 2008 Express (which is no longer supported by Microsoft). They needed to find a way to extend the life of the application in order to maintain continuity of service.
RiverMeadow Solution
Utilizing the power of RiverMeadow's Multi-Cloud Migration Platform and with the depth, breadth and expertise of our Services Team, our Cloud Migration Experts took a two-fold approach to address this legacy challenge:
Automated In-Place OS Upgrade via Migration Platform:
In order to modernize the underlying Operating System a 'Lift and Modernize' approach was adopted which involved an automated in-place OS upgrade of the application server running the COTS application - Dell Enterprise Reporter to Windows Server 2016.
SQL Server 2008 Express to SQL Server 2017 Enterprise:
The customer requested that the high availability be added to the SQL backend. To facilitate this, RiverMeadow removed SQL 2008 Express and installed SQL 2017 Always On with Windows Failover Clustering on the new target.
High-level steps carried out by RiverMeadow included:
Migration of the Source SQL Server to the target

in Azure with In-place OS Upgrade set to Windows

Server 2016
Target VM was converted to an Azure Image and

Sysprepped executed
2 VM's were provisioned from the Azure image

into an Availability Set
An Azure Load Balancer was created for Always

On Cluster and Endpoint Service
Windows Failover Cluster was installed and

configured on each VM (SQL Node)

Microsoft SQL Server 2017 Enterprise was

installed on each Node

DBs and Logs were attached to the Primary SQL Node

Azure Load Balancer Health Probes and Load

Balancing rules were created and mapped
An Always On Availability Group was created and

all in-scope DBs were sync'd
Comprehensive checking of individual server performance and VM sizes and disk types was carried out to ensure that acceptable service levels were provided for the source workload.
Conclusion:
The combination of advanced Product capability and deep Service capability allowed RiverMeadow to modernize our customer's workloads into Azure as part of a migration process with speed and scale.
At the heart of RiverMeadow's success lies a proven migration methodology that can flex depending on a customer's given use case. Combined with our agentless, automated multi-cloud migration platform we can perform migrations faster and more successfully than any other Cloud Service Provider in the market:
To find out more about how you can transform your journey to the cloud, contact a RiverMeadow Cloud Migration Expert or Schedule a demo.