Migrating to Public Cloud by OS or VM? - Why Having the Choice Matters

By Emma Tompkins on Aug 24, 2022 10:26:27 AM



When you're planning a move to public cloud, you'll need to consider whether to migrate your workloads by VM (virtual machine) or by OS (Operating System) - or both. In this blog we take a look at why choosing a Cloud Migration Tool that allows you to decide on how to migrate to the cloud is so important.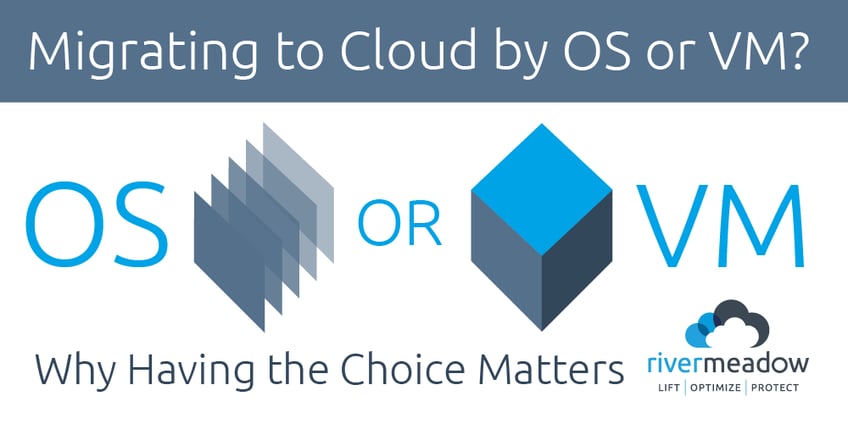 Meeting Your Specific Use Case Requirements
It's all about the use case or, in other words, the particular requirement that your business has in order to accomplish a successful migration.
For the sake of speed and simplicity, you may want to carry out migration by VM. This is ideal for Lift and Shift migrations and generally has a minimal impact on resourcing and organizational change.
Alternatively, if you plan to upgrade your Operating System(s) as part of your migration, or you need support for non-standard and deprecated hypervisors, you're better off migrating at an OS level.
VM-based and OS-based Migrations – What's the Difference?
Let's take a look at the key differences between migrations at the OS level and at the VM level:
OS-based migrations allow for a multitude of different use cases. Listed below are just some examples of the types of scenarios where a migration at the OS level would be most apt:
Source workloads are on Physical hardware
Source workloads are on another hypervisor other than vSphere
The source vSphere version is less than 5.5
There is a constraint that doesn't allow for any on-premise deployment (example – exiting a multi-tenanted collocated facility or MSP)
Where RiverMeadow's OS Modernization Platform is leveraged to reduce technical debt
When there is a need to shrink partitions as part of the migration to reduce cloud spend
VM-based migrations are generally faster and less resource-intensive than OS-based migrations as they adopt a non-intrusive, agentless approach. Migrations at the VM level are more suitable for cases where:
Sources are VM's running on vSphere version 5.5 and above
Agent-less operation is preferred (no need to install, and then later uninstall, software on each VM)
Source credentials are not required
Differential syncs are more expedient based on Change Block Tracking (CBT)
Migrate by VM or OS - The Choice is Yours
To help customers meet their own specific set of requirements and constraints, RiverMeadow has developed a highly flexible Multi-Cloud Migration Platform. This includes the ability to migrate by VM or by OS* – or both – based on factors such as source workload requirements, or disposition strategy.
*Note: VM-based migration simply means RiverMeadow is communicating with the Source Hypervisor and its Virtual Machines vs. OS-based where RiverMeadow is communicating with a Windows or Linux-based workload.
If you're looking for a truly Multi-Cloud Migration Platform that offers ultimate flexibility to address all and any of your diverse use case requirements, please contact our Cloud Migration Experts here.
Finally, a brief word of caution to those who are about to embark on your journey to cloud: before you sign up for 'free' migration tools from your Cloud Service Provider, consider carefully if they'll offer you the flexibility and use case addressability you're going to need. You might just find out you end up paying out more in time and money than you bargained for.
Check out our blog, 'Does Your Cloud Migration Tool Have the Flexibility You Need?' here for more information on this subject.