Moving to Public Cloud? - Take a Big Byte Out of Your Cloud Costs with RiverMeadow's Automated VM Storage Optimization!

By Emma Tompkins on Aug 29, 2023 1:11:51 PM



Lifting and Optimizing your workloads as you migrate to Public Cloud is paramount in a business landscape where every dollar counts. RiverMeadow's Storage Optimization capability, a fully automated process, offers customers a clear-cut solution to take important cost-cutting measures. By leveraging this unique innovation, your business can significantly reduce cloud operating costs and boost efficiency. RiverMeadow is the only platform allowing customers to Lift workloads and automatically Optimize storage capacity as part of a migration project.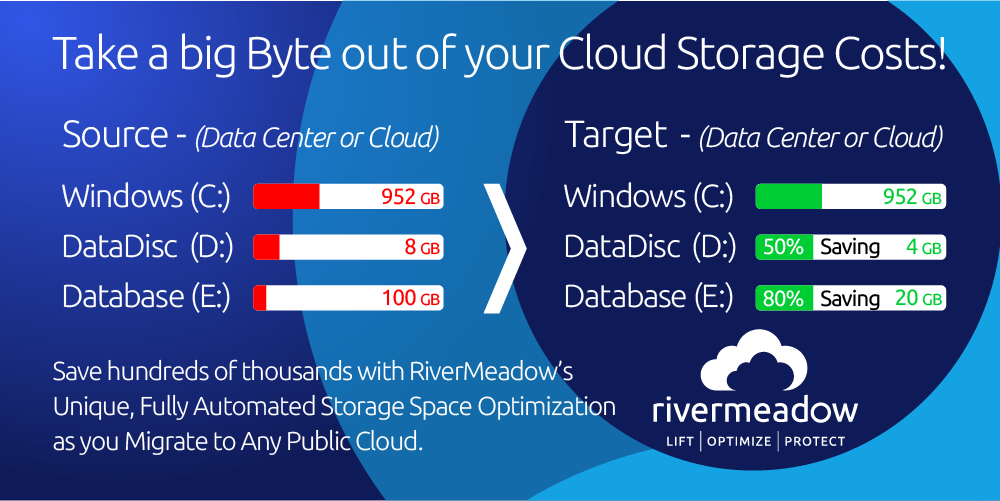 Why Customers Should Care about Storage Optimization
Cloud spending, including cloud storage costs, is significant and material. The big 3 Hyerscalers have all announced multiple price increases over the last year, including increases to at-rest storage. According to Gartner, the vast majority of on-prem servers are overprovisioned by as much as 50%. Why carry this technical debt into the cloud and pay for it unnecessarily? RiverMeadow's Workload Mobility Platform provides Customers with an option to Right Size Storage as part of a migration project, saving material amounts of money.
Real-Life Savings with RiverMeadow's Fully Automated VM block storage optimization.
Our Cloud Mobility Platform enables a seamless transition to Public Clouds with robust cost savings. Below is a recent customer (manufacturing) example of savings from a multi-cloud migration project:
| Metric | Azure | AWS |
| --- | --- | --- |
| Number of Migrations | 347 | 389 |
| Cost per Migration | $200 | $200 |
| Total RM Cost | $69,400 | $77,800 |
| Monthly Savings | $14,553 | $16,249 |
| 1 Year Savings | $174,636 | $194,988 |
| 2 Year Savings | $349,272 | $389,976 |
| 3 Year Savings | $523,908 | $584,964 |
| Payback Period | 4.77 months | 4.79 months |
Data Center to Azure
With 347 RiverMeadow migrations to Azure, businesses experienced significant reductions in Azure Managed Disk consumption in Azure landing zones, equating to 3-year savings of $523,908 for an investment of $69,400.
Data Center to AWS
Through 389 RiverMeadow migrations to AWS, the fully automated process helped businesses minimize Elastic Block Store(EBS) consumption in AWS landing zones, leading to 3-year savings of $584,964 for an investment of $77,800.
Why Storage Optimization on the Cloud is Important
Cost Optimization: Over-provisioned resources lead to unnecessary expenditures. Optimizing partition sizes ensures you pay for precisely what you need, maximizing savings.

Energy Efficiency: Optimizing storage utilization reduces energy consumption, contributing to a greener footprint.

Alignment with Business Goals: Rightsizing ensures IT resources align with business objectives, driving value.

Automation and Efficiency: RiverMeadow's Partition optimization automates the process, saving time and operational costs.



In conclusion, block storage optimization on the cloud is not just a strategy but a necessity for any business looking to harness the cloud's power most efficiently. Migrate and Optimize your workloads to any Public Cloud at scale, speed, and certainty with RiverMeadow. Talk to a RiverMeadow Expert Today, and take a big byte out of your cloud costs!