Cloud Migration Discovery at Your Fingertips
Understanding your applications so that key dependencies are maintained throughout the migration process plays a major part in determining your success when migrating to the cloud. Choosing the right applications to migrate first is key to building a robust cloud migration strategy. RiverMeadow's IT Asset Discovery module enables you to analyze your applications to ensure that you select a logical sequence for migrating them to your chosen cloud target.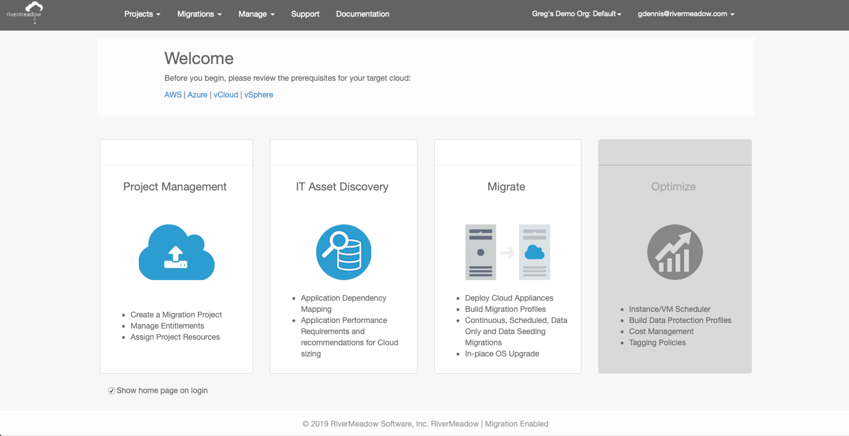 Why use RiverMeadow's IT Asset Discovery Integration Module?
Our Self-Service IT Asset Discovery Integration Module enables:
Seamless integration with RiverMeadow's Migrate Module
Gather Configuration Information (CI) data on desired sources by subnet range
Analyze Application Dependencies to better determine migration strategy (Move Web, App, DB Server in one Move Group)
Determine what should be retired, refactored, replatformed, repurchased or retained
Analyze Workload Performance with recommendations for Cloud Sizing (cost avoidance is important when switching to Cloud (OPEX)
Create Move Groups based on Discovered Sources
RiverMeadow is the only Cloud Migration solution that offers a fully integrated Platform of scalable technology and automated solutions to streamline the discovery, migration, optimization and management of large-scale workloads to and between clouds.
Our Self-Service IT Asset Discovery Integration Module will enable you to move through the discovery phase of your migration project with accelerated ease. Talk to a Cloud Migration Expert today to learn how best to embark on your journey to the cloud with confidence and ease.