Cloud Migration by Applications or Move Groups
RiverMeadow now gives customers and partners the flexibility to migrate applications (with application stack names as relevant) or move groups (in project groupings such as Sprint 1, 2, 3...) on an enterprise scale from within it's Cloud Migration Platform.
RiverMeadow's IT Asset Discovery Integration Module analyzes application dependencies to better determine migration Move Groups. These are then set up in RiverMeadow's Project Module for subsequent migration from within the Migrate Module.
Take a look at the following move group template to see how a major customer used our IT Asset Discovery Module to set up move groups to migrate multiple applications to the cloud: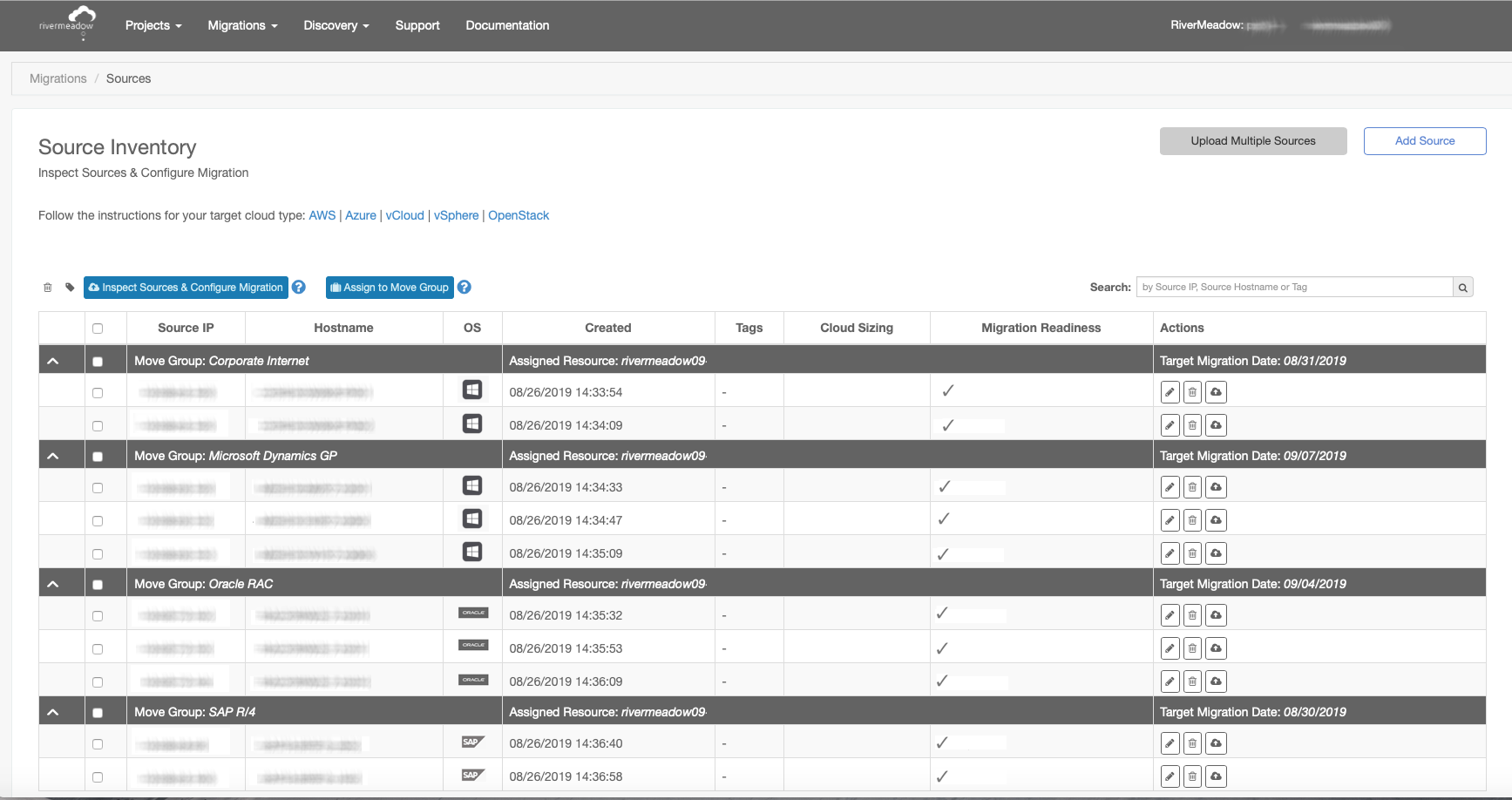 Move Groups - Adding Efficiency and Certainty to your Migration
A Move Group is a group of applications that contain a dependency and therefore must be migrated together. Breaking down Move Groups and comprehensively analysing the dependencies is vital to ensure that any migration project runs smoothly. The more synergistic the approach, the faster and more reliable the migration process:
RiverMeadow pulls in discovery data via its IT Asset Discovery Integration Module which includes dependency information about how application components comprise an application stack
Selected source machines are grouped together based on the application stack or project phase
Each Move Group or subsets of Move Groups can be given a name (eg Sprint1, Wave1 etc.) in order to be easily identified according to each customer's requirements
Move Groups can be assigned a target migration date for project tracking
Move Groups can be assigned to a resource (a user account defined within a project) for project
Setting up Move Groups from within RiverMeadow's Self-Service IT Asset Discovery Integration Module will enable you to move through the discovery and migration phase of your project with accelerated ease.
RiverMeadow is the only Cloud Migration solution that offers such a fully integrated Platform of scalable technology and automated solutions to streamline the discovery, migration, optimization and management of large-scale workloads to and between clouds. Talk to a Cloud Migration Expert today to learn how best to embark on your journey to the cloud with confidence and ease. Alternatively, schedule a personal demo here: