Lift and Optimize Workloads onto VMware on Any Public Cloud with RiverMeadow

By Emma Tompkins on Oct 2, 2023 10:41:58 AM



The digital transformation journey is more critical than ever. As businesses navigate this evolving landscape, foundational technology alone won't suffice. What's needed is agility, flexibility, and cost-efficiency. VMware on Public Cloud (AVS, GCVE, VMC, OCVS, ICVS) offers the benefits of cloud computing—on-demand resources, elasticity, security, and modern infrastructure—while allowing businesses to maintain their existing investments in people, processes, and know-how.

However, the question that often arises is—how do you move existing workloads onto VMware on Public Cloud without risking your operational stability? Enter RiverMeadow's fully automated Workload Mobility Platform.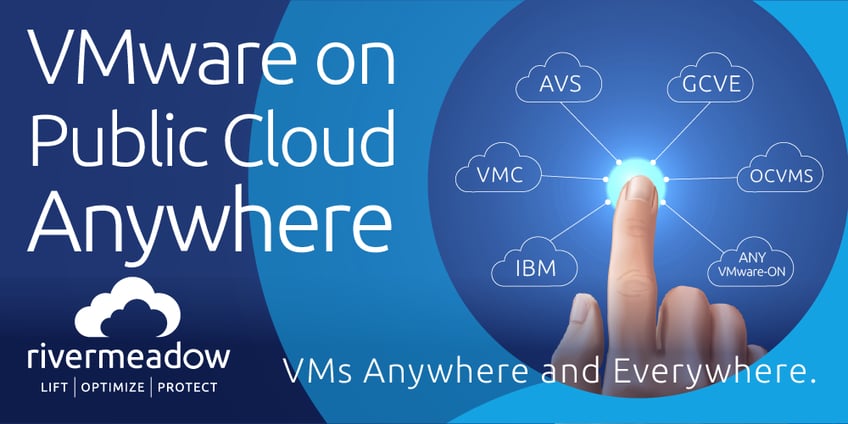 VMware: The Technological Bedrock
VMware is the industry standard for enterprise-level virtualization and is the cornerstone of cloud computing. With VMware on Public Cloud, businesses can rest assured that their existing on-prem VMware environment will seamlessly transition, significantly reducing cloud adoption risks.
RiverMeadow: Enabling VMs Anywhere and Everywhere
RiverMeadow takes you a step further, transforming your VMware environment into an operational powerhouse that's agile, flexible, and cost-efficient. With our Workload Mobility Platform, you can migrate, modernize, and optimize your VMware workloads to any Public Cloud at scale with speed and certainty.
Key Benefits of RiverMeadow Workload Mobility
Migration Approach and Automation Matters: RiverMeadow's fully automated platform ensures your workloads can be moved in minutes, not days, weeks, or even years.

Flexibility of Deployment Models Matters: Our platform allows businesses to optimize costs across different cloud providers without compromising on performance or security.

Use Case Addressability Matters: RiverMeadow makes the 'VM Anywhere and Everywhere' concept a reality today.

Know Your HCX Limitations: While HCX offers migration capabilities, it has its limitations. RiverMeadow fills those gaps, providing a comprehensive migration solution.

VM Storage Optimization:

Over-provisioned resources lead to unnecessary expenditures. Optimizing partition sizes ensures you pay for precisely what you need, maximizing savings.




OS Modernization: Upgrade the target Operating System as part of migration with support for Windows Server, Windows Desktop, and major Linux Distributions.

Hostile Migration: Skillfully navigate through and manage hostile migrations, ensuring zero business disruptions.

NetApp Storage Integration: Flawlessly migrate and integrate your workloads with NetApp storage for superior data reliability and operational agility.

Maintain Investments: Leverage RiverMeadow to sustain your existing investments in people, processes, and technology while moving to a public cloud environment.

Speed and Safety: With RiverMeadow, migrating to VMware on Public Cloud becomes faster and safer, minimizing operational risks.

Ubiquity of Access: RiverMeadow ensures that your VMware workloads are never tied down, enabling deployments across any public, private, or hybrid cloud.

Operational Flexibility: With RiverMeadow's Workload Mobility, move or duplicate your VMs swiftly and responsively, adapting to market demands and emerging opportunities.

Cost Efficiency: Our platform allows businesses to optimize costs across different cloud providers, without compromising on performance or security.

Business Continuity: RiverMeadow's unique features enable your business to be genuinely resilient, allowing for quick duplication or shifting of workloads to manage peak loads or act as a part of a disaster recovery strategy.

Speed of Deployment: Our fully automated platform ensures your workloads can be moved in minutes, not days, reinforcing the promise of 'VM Anywhere and Everywhere.'

Compliance and Governance: Navigate the intricate web of regulations by placing your workloads where they best meet data sovereignty and regulatory requirements.

Multi-Cloud Strategy: In today's multi-cloud landscape, RiverMeadow serves as the crucial bridge between your VMware workloads and various cloud providers, enhancing your strategic agility.

Innovation and Competitiveness: Our Workload Mobility features arm you with the tools to innovate and stay ahead of the market curve.
Conclusion
VMware provides the technological cornerstone, but RiverMeadow transforms this foundation into an agile, cost-efficient, and operationally flexible environment that thrives in any public cloud. Talk to a RiverMeadow Expert Today and discover how we can make your VMware workloads as agile as your business demands.