Facing the CentOS EoL Head-On: Rely on RiverMeadow's Automated and Safe OS Conversion Approach

By Emma Tompkins on Oct 12, 2023 6:51:35 AM



As we approach June 30th, 2024, the impending End of Life (EoL) of CentOS Linux looms large, compelling users to seek out a more secure and supported system. In-place upgrade tools are available but come with their own challenges. However, a safer, faster, and more efficient alternative is RiverMeadow's Linux OS Conversion.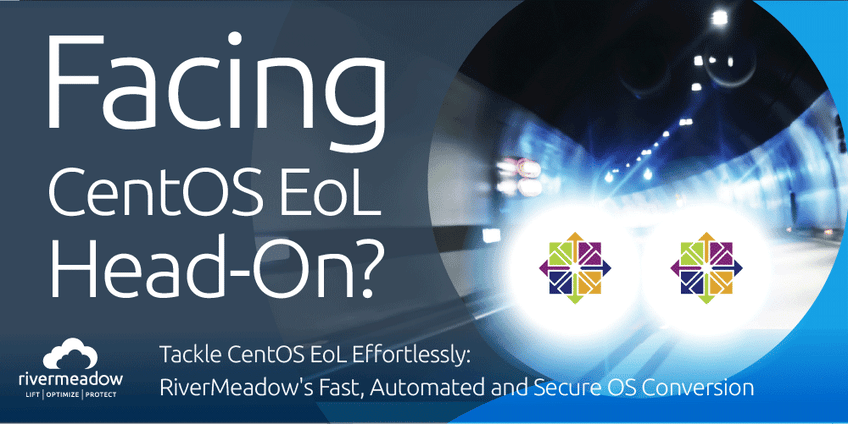 Traditional In-Place Upgrade: Risks and Challenges
The conventional approach to upgrading your Linux distributions involves an in-place upgrade, as provided by tools like Convert RHEL. In-place upgrades replace the existing system with a new version, which often results in a slow, time-consuming process. It requires considerable planning and technical expertise and has the potential for costly redeployment projects.
Moreover, in-place upgrades pose the risk of data loss and software incompatibility. They also require significant downtime, draining resources that could be better allocated elsewhere in your organization. Most importantly, the lack of a safety net in in-place upgrades means you can be left with a non-functioning system and much troubleshooting. If things go wrong, they can go very wrong, leading to severe consequences for your business.
RiverMeadow: Automated, Safe, and Testable
Unlike in-place upgrades, RiverMeadow's Linux OS Conversion operates differently and more efficiently. Our platform creates a clone of your existing system in the cloud, offering an additional safety layer. You can thoroughly test the clone before cut-over, ensuring it functions as expected in the new environment. This not only minimizes risks but also all but eliminates downtime.
RiverMeadow's solution is highly automated, accelerating the modernization process. It provides an easy pathway from CentOS Linux to Red Hat Enterprise Linux or popular alternatives like Rocky Linux and AlmaLinux. You can also modernize your distributions while migrating your workloads to the cloud, keeping your Linux distributions updated and secure while transitioning to a more effective cloud environment.
Our solution seamlessly integrates with NetApp storage, ensuring your data remains secure and accessible throughout migration. Whether dealing with a straightforward or hostile migration, RiverMeadow provides a smooth transition with minimal friction.
More Than Just an Upgrade
Beyond merely upgrading your Linux distributions, RiverMeadow helps you Migrate, Modernize, and Optimize your workloads to any public, private, or hybrid cloud. Our platform is engineered to not only modernize RHEL, CentOS, and OEL versions 6.x through to 9.x, but also to reduce technical debt, improve security and performance, and can often save organizations millions in annual operating costs.
By leveraging RiverMeadow's unique Multi-Cloud, Multi-Platform Workload Mobility and cost-saving optimization capabilities, you can ensure that your Linux distributions, including RHEL, CentOS, and OEL, remain compatible with your new cloud environment. This proactive approach avoids conflicts or inefficiencies arising from unsynchronized upgrades, fostering a more resilient and efficient IT ecosystem.
Conclusion
As the EoL date for CentOS Linux draws near, it's time to action your transition strategy. Don't settle for risky, slow, and resource-draining in-place upgrades like Convert RHEL. Opt for RiverMeadow's Linux OS Conversion solution. Experience a safer, quicker, and more efficient transition to a secure and supported Linux distribution. It's not just an upgrade; it's a revitalization of your Linux distributions and your cloud migration journey. With RiverMeadow, your transition is in safe hands. Talk to a RiverMeadow Expert Today!