The 6 R's: A Winning Formula

By Jim Jordan on Jul 15, 2020 9:29:00 AM



RiverMeadow Software is a technology driven services company specialising in the migration of physical, virtual and cloud-based workloads into and between public, private and hybrid clouds.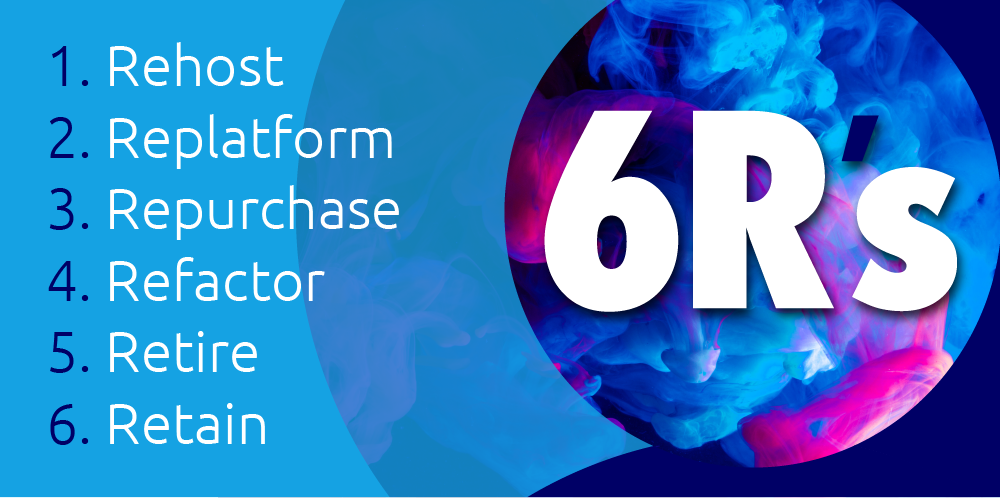 As migration specialists we hear a lot about the 6Rs as a framework for determining what and how to move to the cloud. This paradigm was expounded by AWS in 2016 and still holds true today, but where does RiverMeadow fit in?
Let's start by looking at the 6 Rs:
Rehosting – often known as "lift and shift" when done properly this approach can yield great quick results with low risk. .
Replatforming – the halfway house for many, we term this as Lift and Evolve, Identifying and modernising some portions of the application as part of your cloud journey
Repurchasing – changing the underlying product completely, this is not a new approach, however cloud offers more options
Refactoring – moving workloads to cloud native architectures (IaaS to PaaS). This is often one of the goals for exploiting cloud, however it is often the most costly, time consuming and increases risk.
Retiring – many of the organisations we have worked with harbour a level of unintentional redundancy that can simply be turned off.
Retaining – the 'do nothing' option, there are many reasons to do this but they should be revisited on a regular basis.
So what does RiverMeadow offer in terms of the 6 R's?
1. Rehosting
Otherwise known as 'Lift and Shift', rehosting is often considered one of the easiest and least expensive ways to migrate an existing workload to the cloud as it involves taking the workload as-is and running it on cloud-native resources. The aim of Lift & shift is to provision, import, and deploy applications and infrastructure resources to match existing, on-premises architecture without modification.
When 'Lift and Shift' is done as part of a well planned migration involving a discovery and optimisation phase, it can deliver great results and cost savings. This is especially true in a large legacy migration scenario where the organization is looking to scale its migration quickly to meet a deadline or benefit from cost savings without any need to make any changes or optimize in the cloud.
Yet it is not without its challenges. Detractors will tell you it can lead to inefficient and expensive cloud consumption as well as poor performance or data leakage. Whatever the case, lack of understanding of the cloud means that embarking on a 'Lift and Shift' approach should not be undergone without careful planning and support.
This is where RiverMeadow can help. By automating the majority of the process we take much of the guess-work out and mitigate the risk involved. Our fixed cost Managed Cloud Migration Service means that the hard part - migration the application, data and traffic - is in the hands of experts and you can focus your efforts on optimizing and rearchitecting the applications once they're already running in the cloud. Here is just one example of how RiverMeadow successfully migrated 500 servers to the cloud using the 'Lift and Shift' approach.
2. Replatforming
Often referred to as 'Lift, Tinker and Shift', this approach entails making a few cloud optimizations in order to achieve some tangible benefit without changing the core architecture of the application. The scope for replatforming can be fairly broad. From a simple change in configuration through to a change of underlying services.
RiverMeadow has the ability to automate an array of changes as part of a migration to evolve the workload. We call this facility our Migration Extensions. We can inject a script into the process that can carry out any number or tasks or modifications, allowing us to evolve the target machine.
3. Repurchasing
Sometimes referred to as 'Drop and Shop', this is often the most detached option. You are buying another product which will start from scratch. For workloads that can easily be upgraded to newer versions, this strategy might allow a feature set upgrade and smoother implementation.
RiverMeadow can help here as well. We are able to carry out a migration of the disks on a machine that contain the data without migrating the operating system. This Data Only Migration (as we call it) could potentially allow us to move the data so it can be used by the new application.
4. Refactoring
Refactoring is typically the most expensive option as it involved re-architecting your existing environment that would otherwise be difficult to achieve in order to meet the needs of the business.
Whilst RiverMeadow cannot support the underlying development, we help by moving the data and keeping it in sync for your new application. We use our Data Only Migration capability in a similar way to Repurchasing.
5 & 6. Retain or Retire
Decisions to Retain or Retire workloads typically come out of the discovery process. This can often be the most challenging and time-consuming part of a Cloud migration project, especially if your infrastructure is spread across multiple data centers or multiple teams. Visualizing your entire IT infrastructure, uncovering potential issues, documenting your findings and turning them into actionable insight takes time.
Retire: Knowing which assets are no longer required so that they can be switched off saves time and money in the long run as you won't be paying for these redundant elements in the cloud and you can focus your attention towards maintaining the resources that are widely used. However, pin-pointing which ones to 'turn off' requires careful consideration and planning to prevent any unknown issues from arising - all part of the Discovery and Portfolio Analysis phase.
Retain: Similarly, you may want to retain portions of your IT portfolio because there are some applications that you deem unsuitable for the cloud - or you are simply not ready to make the move.
In both cases, having a partner help you identify what goes where will be a vital part of your cloud migration journey experience.
RiverMeadow's Discovery & Assessment Service will accelerate your cloud adoption initiatives by focusing on the cloud readiness of your applications, data and infrastructure to provide quick wins. Our proven methodology provides you with key data and costings to configure your optimum cloud setup, best-fit cloud provider and understand your cloud total cost of ownership. In short, you will have all the necessary information to hand on which to make informed decisions on your migration strategy.
Summary
RiverMeadow can help you on your cloud migration journey across all of the 6 Rs:
| | | |
| --- | --- | --- |
| The R | How We Help | Useful Links |
| 1. Rehosting | Tooling & Services | |
| 2. Replatforming | Tooling & Services – Migration Extensions | |
| 3. Repurchasing | Tooling and Services - DOM | |
| 4. Refactoring | Tooling and Services - DOM | |
| 5. Retiring | Services – Discovery & assessment | |
| 6. Retaining | Services – Discovery & assessment | |