Our Board of Directors leverage global technical and business expertise to advise and shape our technical strategy, roadmap and company growth.
Richard Scannell - President & CEO

Richard is is President and CEO at RiverMeadow Software and a seasoned industry veteran in the IT Infrastructure marketplace. Prior to joining RiverMeadow, he co-founded GlassHouse Technologies in 2001. In his role as Senior VP of Corporate Strategy and Marketing, Richard was responsible for GlassHouse's Sales, go-to-market strategy and marketing functions, helping to grow GlassHouse from startup to over 600 people in seven countries. Prior to GlassHouse, Richard served as COO of UpSource, a startup company providing outsourced CRM services. Richard has also worked as a senior IT infrastructure manager at Motorola. Richard holds a Bachelor of Science (BSc.) in Computer Science from University College Cork, Ireland.
---
Jeff Samberg

Jeff is the managing member of Acadia Woods Partners, LLC, a New York-based investment partnership that focuses primarily on early-stage technology companies. Previously, he held a number of high-technology management roles, including Vice President of Corporate Strategy for PeopleSoft Inc., Vice President of Business Development for Wily Technology and Entrepreneur in Residence for Greylock Partners. Mr. Samberg received his MBA from Stanford University's Graduate School of Business and his B.A. with high honors in economics from Princeton University.
---
Mark Rosenblatt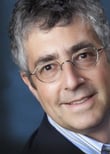 Mark Rosenblatt is a member of the RiverMeadow board of directors. He also serves on the boards of StatSocial (data analysis for social audience targeting), Luminoso (a text analytics company), and Ensurify (an online car insurance shopping platform). As entrepreneur, Mark founded, ran, and sold Rationalwave Analytics, a rule-based machine learning company, to Bottomline Technologies. He was also Executive Chairman and then Chairman of Violin Memory, a solid-state storage company from 2006 through its going public in 2013. Mark has been actively involved in high-tech start-ups as a board member, angel, and advisor since before his hair had any grey. Mark also serves on the board of the Institute for the Analysis of Global Security and as an advisor to the Fuel Freedom Foundation.